Chapter 48

Applying k-Fold Cross-Validation to Logistic Regression

In this chapter, we will learn how to apply k-fold cross-validation to logistic regression. As a specific type of cross-validation, k-fold cross-validation can be a useful framework for training and testing models.
48.1

Conceptual Overview

In general, cross-validation is an integral part of predictive analytics, as it allows us to understand how a model estimated on one data set will perform when applied to one or more new data sets. Cross-validation was initially introduced in the chapter on statistically and empirically cross-validating a selection tool using multiple linear regression. k-fold cross-validation is a specific type of cross-validation that is commonly applied when carrying out predictive analytics.
48.1.1

Review of Predictive Analytics

True predictive analytics involves training (i.e., estimating, building) a model using one or more samples of data and then evaluating (i.e., testing, validating) how well the model performs when applied to a separate sample of data drawn from the same population. Assuming we have a large enough data set to begin with, we often assign 80% of the cases to a training data set and 20% to a test data set. The term predictive analytics is a big umbrella term, and predictive analytics can be applied using many different types of models, including common regression model types like ordinary least squares (OLS) multiple linear regression or maximum likelihood logistic regression. When building a model using a predictive analytics framework, one of our goals is to minimize prediction errors (i.e., improve prediction accuracy) when the model is applied to "fresh" or "new" data (e.g., test data). Fewer prediction errors when applying the model to new data indicate that the model makes more accurate predictions. At the same time, we want to avoid overfitting our model to the data on which it is trained, as this can lead to a model that fits our training data well but that doesn't generalize to our test data; applying a trained model to new data can help us evaluate the extent to which we might have overfit a model to the original data. Fortunately, there are multiple cross-validation frameworks that we can apply when training a model, and these frameworks can help us improve a model's predictive performance/accuracy while also reducing the occurrence of overfitting. One such cross-validation framework is k-fold cross-validation.

48.1.2

Review of k-Fold Cross-Validation

Often, when applying a predictive analytics process, we do some sort of variation of the two-phase process described above: (a) train the model on one set of data, and (b) test the model on a separate set of data. We typically put a lot of thought and consideration into how to train a model using the training data. Not only do we need to identify an appropriate type of statistical model, but we also need to consider whether we will incorporate validation into the model-training process. A common validation approach is k-fold cross-validation. To perform k-fold cross-validation, we often do the following:
We split the data into a training data set and a test data set. Commonly, 80% of the data are randomly selected for the training data set, while the remaining 20% end up in the test data set.
We randomly split the training data into two or more (sub)samples, which will allow us to train the model in an iterative process. The total number of samples we split the data into will be equal to k, where k refers to the number of folds (i.e., resamples). For example, if we randomly split the training data into five samples, then our k will be 5, and thus we will be performing 5-fold cross-validation. We then use the k samples to train (i.e., estimate, build) our model, which is accomplished through iterating the model-estimation process across k folds of data. For each fold, we estimate the model based on pooled data from k-1 samples. That is, if we split our training data into 5 samples, then for the first fold we might estimate the model based on data pooled together from the first four samples (out of five); we then use the fifth "holdout" (i.e., kth) sample as the validation sample, which means we assess the estimated model's predictive performance/accuracy on data that weren't used for that specific model estimation process. This process repeats until every sample has served as the validation sample, for a total of k folds. The models' estimated performance across the k folds is then synthesized. Specifically, the k cross-validated models are then tossed out, but the estimated error from those models can be synthesized (e.g., averaged) to arrive at a performance estimate for the final model. With some types of models, the estimated error (e.g., root mean-squared error, R2) from those models is used to inform the final model estimation. Note that the final model's parameter estimates are typically estimated using all of the available training data.
The k-fold cross-validation framework can be extended by taking the final trained model and evaluating its performance based on the test data set that – to this point – has yet to be used; this is how k-fold cross-validation can be used in a broader predictive analytics (i.e., predictive modeling) context. It is important to note, however, that there are other cross-validation approaches we might choose, such as empirical cross-validation and leave-one-out cross-validation (LOOCV) – but those are beyond the scope of this chapter. James, Witten, Hastie, and Tibshirani (2013) provide a nice introduction to LOOCV; though, in short, LOOCV is a specific instance of k-fold cross-validation in which k is equal to the number of observations in the training data. The figure below provides a visual overview of the k-fold cross-validation process, which we will bring to life in the tutorial portion of this chapter.
In this chapter, we will focus on applying k-fold cross-validation to the estimation and evaluation of a multiple logistic regression model. The use of logistic regression implies that our outcome variable will be dichotomous. For background information on logistic regression, including the statistical assumptions that should be satisfied, check out the prior chapter on logistic regression. I must note, however, that other types of statistical models can be applied within a k-fold cross-validation framework – or any cross-validation framework for that matter. For example, assuming the appropriate statistical assumptions have been met, we might also apply more traditional regression-based approaches like ordinary least squares (OLS) multiple linear regression, or we could apply supervised statistical learning models like Lasso regression, which will be covered in a later chapter.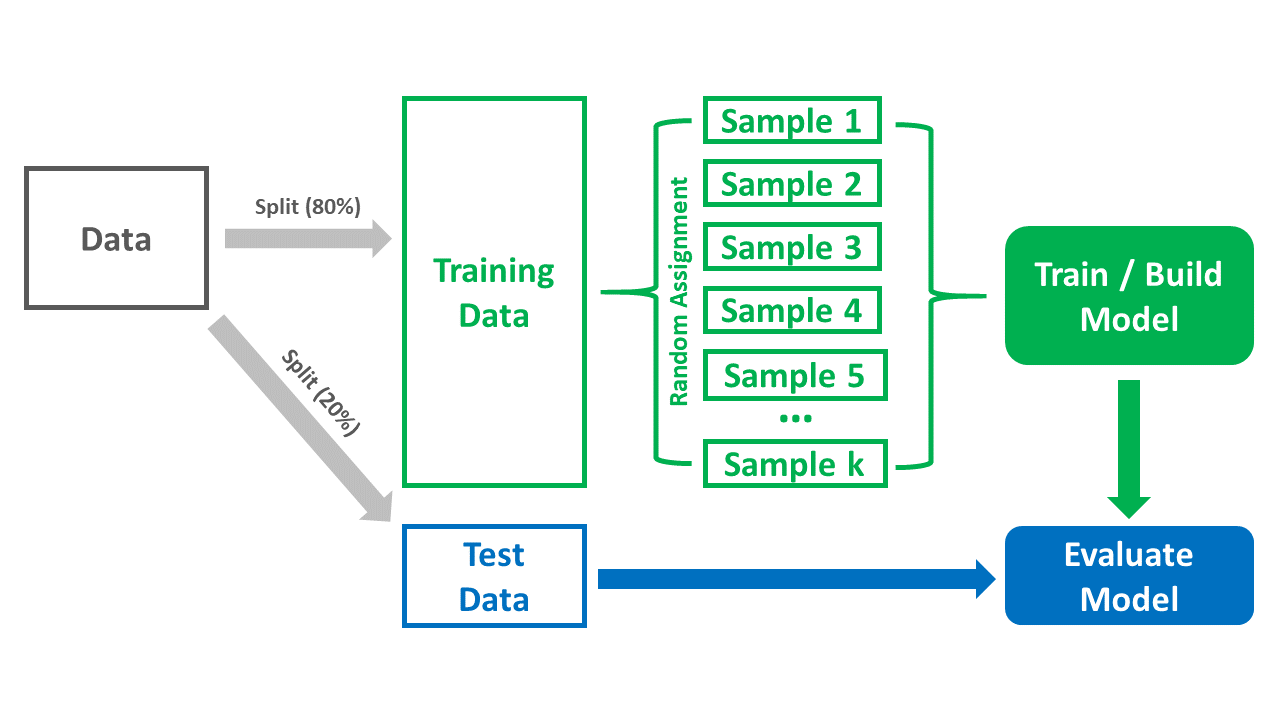 48.1.3

Conceptual Video

For a more in-depth review of k-fold cross-validation, please check out the following conceptual video.

Link to conceptual video: https://youtu.be/kituDjzXwfE
References
James, G, T Witten D abd Hastie, and R Tibshirani. 2013. An Introduction to Statistical Learning: With Applications in r. New York, NY: Springer.
Landis, J R, and G G Koch. 1977.
"The Measurement of Observer Agreement for Categorical Data."
Biometrics
33: 159–74.