Chapter 19

Cleaning Data

In this chapter, we will learn how to clean data, such as correcting data-entry errors or removing out-of-bounds scores.
19.1

Conceptual Overview

Link to conceptual video: https://youtu.be/f8KIDg2UUKQ

Cleaning data is an essential part of the Data Management phase of the HR Analytics Project Life Cycle. When we clean data, broadly speaking, we identify, correct, or remove problematic observations, scores, or variables. More specifically, data cleaning often entails (but is not limited to):
Identifying and correcting data-entry errors and inconsistent coding;
Evaluating missing data and determining how to handle them;
Flagging and correcting out-of-bounds scores for variables;
Addressing open-ended and/or "other" responses from employee surveys;
Flagging and potentially removing untrustworthy variables.
With categorical (i.e., nominal, ordinal) variables containing text values, sometimes different spellings or formatting (e.g., uppercase, lowercase) are used (mistakenly) to represent the same category. Such issues broadly fall under data-entry errors and inconsistent coding reason for data cleaning. While the human eye can usually discern what the intended category is, many software programs and programming languages will be unable to automatically or correctly determine which text values represent which category. For example, in the table below, the facility variable is categorical and contains text values meant to represent different facilities at this hypothetical organization. Human eyes can quickly pick out that there are two facility locations represented in this table: Beaverton and Portland. With that said, for the R programming language, without direction, the different spellings and different cases (i.e., lowercase vs. uppercase "B") for the Beaverton facility (i.e., Beaverton, beaverton, beverton) will be treated as unique categories (i.e., facilities in this context). Often this is the result of data-entry errors and/or the lack of data validation. To clean the Facility variable, we could convert all instances of "beaverton" and "beverton" to "Beaverton".

Missing data (i.e., missing scores) for certain observations (i.e., cases) should also be addressed during data cleaning. For the Facility variable in the table shown below, note how facility location data are missing for the employees with IDs EP9746 and EP9952. In this example, we could likely find other employee records or contact the employees (or their supervisors) in question to verify the facility location where these to employees work. Provided we find the facility locations for these two employees, we could then replace the missing values with the correct facility location information. In other instances, it may prove to be more difficult to replace missing data, such as when organization administers an anonymous employee survey and certain respondents have missing responses to certain questions or items. In such instances, we may decide to tolerate a small percentage of missing data (e.g., < 10%) when we go to analyze the data; however, if the percentage of missing data is sufficiently large and if we plan to analyze the data to make inferences about underlying population from which the sample data were attained, we may begin to think more seriously about whether the data are missing completely at random, missing at random, or missing at not at random. A proper discussion of missing data theory is beyond the scope of this chapter.

In some instances, we might encounter out-of-bounds scores, which refer to values that simply are too high or low, or that are just too unrealistic or implausible to be correct. In the table below, the Base Salary variable includes salaries that are all below 75,000 – with the notable exception of salary associated with employee ID EP0214. Let's imagine that this table is only supposed to include data for a specific job category; knowing that, a base salary of 789,120,000 seems excessively high in a global sense and extraordinarily high in a local sense. It could be that someone entered the base salary data incorrectly for this employee, perhaps by adding four extra zeroes at the end of the actual base salary amount. In this case, we would try to find verify the correct base salary for this individual and then make the correction to the data.

If the example above seems a bit far-fetched to you, I'll provide you with a personal example of just a single zero being mistakenly added to the end of a paycheck. After my fourth year of graduate school, I decided to teach a summer course as an adjunct faculty member, which happened to be an introductory human resource management course. During the week in which I was covering employee compensation, I received a paycheck with one extra zero added to my pay for that month, which of course increased my monthly pay 10-fold. As much as I would have enjoyed holding onto that extra money, I quickly reached out to the a representative from the university's HR department, and the person addressed the error very quickly. At the end of the conversation, the HR representative said jokingly, "The irony is not lost on us that we made this payroll error for someone who is teaching a unit on employee compensation."
When an open-ended response or "other" response field is provided (as opposed to a close-ended response field with predetermined response options), the individual who enters the data can type in whatever they would like (in most instances) provided that they limit their response to the allotted space. This challenge crops up frequently in employee surveys, such as when employees may select an "other" response for one survey question that then branches them to a follow-up question that is open-ended. In the table below, survey respondents' close-ended response options for the Number of Direct Reports variable include an "Other" option; respondents who responded with "Other" had an opportunity to indicate their number of direct reports using an open-ended survey question associated with the Number of Direct Reports (Other) variable. When cleaning such data, we often must determine what to do with the affect variables on a case-by-case basis. For example, the individual who responded to the survey associated with a unique identifier of 2 responded with "Not a supervisor". If this survey was intended to acquire data from supervisors only, then we might decide to remove the row of data associated with that individual's response, as they likely do not fit our definition of the target population.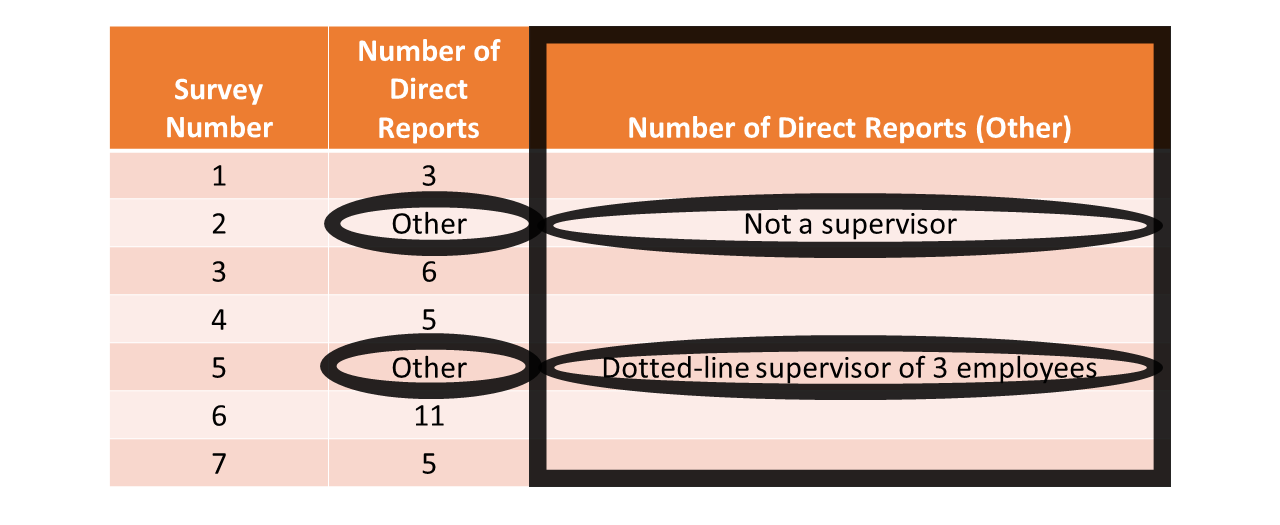 Finally, sometimes scores for a variable (or even missing scores for a variable) seem "off," incorrect, or implausible – or in other words, untrustworthy. For example, in the table below, a variable called Training Post Test is meant to include the scores on a post-training assessment; yet, we can see that the individual with employee ID EP1475 has a score of 99 even though the adjacent variable indicates that the individual did not complete the training. Now, it's entirely possible that this person (and others) were part of a control group (i.e., comparison group) intended to be used as part of a training evaluation design, but that then begs the question why only one individual in this table has a training post-test score. At first glance, data associated with the Training Post Test variable seem untrustworthy, and they very well may be in reality. As a next step, we would want to do some sleuthing to figure out what errors or issues may be at work in these data, and whether we should remove the potentially untrustworthy variable in question.

References